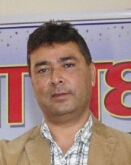 Message from the Director
After almost a decade  of teaching and serving experience Iwamura college of health science has been able to bring about revolutionary changes in the health sector in rural as well as urban areas of Nepal .With the vision of providing unbiased and quality health services to rural areas, Dr. Noburu Iwamura from japan, who also happens to be the first ever foreign health volunteer in Nepal come to our nation and pledged his life to serving the needy. And it is with his objective in mind that we have been serving the health sector of Nepal by providing health training and education to new and fresh minds under the affiliation of CTEVT.
Having own fully operational hospital, labs, library in the 15 ropani premises and well experienced medical worker, faculties and motivated and dynamic management, we leave no stones unturned in providing our students all the practical and theoretical knowledge and skills. With this simple course of study, no student shall remain unemployed and will be able to get a job at ease in no time on any corner of the world.
I would like to extend my sincere gratitude and thanks to all the teaching and non- teaching staffs of ICHS, management committee, guardians, well wishers and the students of this college who have been providing unconditional love and support to the ICHS family.
Welcome to the Iwamura family
Mr. Hari Bahadur Basnet
Director